BSA International Rally - Australia- 2018.
November 9th - November 15th
FOLLOW US FACEBOOK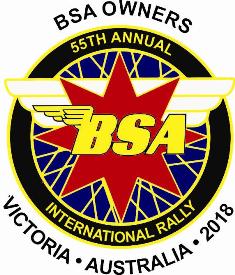 November 9th - November 15th
Welcome
WELCOME TO THE 55th BSA INTERNATIONAL RALLY 2018

The BSA Owners of Victoria, take great pleasure in inviting all of you to Victoria, AUSTRALIA for the BSA International Rally 2018.  The Rally will be in Halls Gap, in the scenic Grampians National Park.  Rally arrivals are scheduled for Friday, 9th November, and departures on Friday, 16th November.  That means that a weekend will occur during the course of the Rally, and we plan to use that to our advantage.
Accomodation
Nestled in the foothills of the majestic Grampians National Park, and centrally located in Halls Gap, the Parkgate Resort (part of the BIG4 Holiday Parks group) offers you a great range of accommodation. The accommodation includes quality cabin, caravan and ensuite sites for a fantastic family holiday in a safe, inviting and relaxing atmosphere.
There is also OFF SITE Accommodation in close proximity to the Parkgate Resort. Halls Gap Gardens park have offered a 10% discount for the week to all rally goers. Halls Gap Gardens has similar facilities and is a short distance around the corner from Parkgate Resort.
Gariwerd Motel Fantastic location just 700m from the centre of Halls Gap. 25 clean, quiet, comfortable & spacious rooms.
With a range of accommodation options to suit all budgets and situated in some of nature's most breathtaking scenery, you can be assured of a memorable holiday experience so enjoyable... you'll find it hard to leave. Facilities include:  Family Bathroom, Disabled Bathroom, Go Karts (unpowered), Pool (Salt Water), Basketball, Beach Volley Ball, Games Room, Giant Jumping Pillow(s), Playground, Tourist Information and/or Bookings, Cots & High Chair Hire. Motels and villas are also available nearby.

The accommodation has been reserved for the BSA International Rally 2018, and the campground has agreed to offer group booking rates for our event.
Location
The Grampians National Park, is a national park located in the Western region of Victoria, Australia. The Grampians mountain ranges are also known as Gariwerd. The national park is situated between Stawell and Horsham on the Western Highway and Dunkeld on the Glenelg Highway, 260 kilometres west of Melbourne. Proclaimed as a national park on 1 July 1984, the park was listed on the Australian National Heritage List on 15 December 2006 for its outstanding natural beauty and is one of the richest indigenous rock art sites in south-eastern Australia. The Grampians feature a striking series of sandstone mountain ranges. You can expect to find beautiful country roads, trees bushland, and the wine country.  Down town Halls Gap is conveniently close, and the Rally site gives access to rural roads for pleasurable riding. Average temperatures during November are 14C (low) to 21C (high).
Booking for the rally will occur in two(2) steps
Step 1 - Rally Fee
Rally entry and registration will ALL BE DONE ONLINE with the BSA International Australia:
NOTE: The booking window for this will open from 7th December 2017.
Select either the [BOOK] button below or link,
Make your selections, then scroll to the bottom and select [NEXT]
Complete your transaction. Note AUD0.30 booking fee.

Step 2 - Accommodation
Booking accommodation can be done directly with Parkgate Resort NOW via email or phone.
All accommodation has been blocked out exclusively for our event.
You will need to book for the entire event that is, Friday 9th November through to Friday 16th November.
There is no provision to book single days or short stays during the duration of the event.
Please contact Parkegate directly via email or phone to finalise your arrangements.
The minimum accomodation booking is:

Arrivals Friday, 9th November, 2018
Departures Friday, 16th November, 2018
, or
PO Box 80, Halls Gap Victoria 3381, or
TEL +61 (0)3 5356 4215 , or
FAX +61 (0)3 5356 4472 , or
with other offsite accommodation, motel, B&B, private caravan (RV) rentals.

Information
More information and details will be forthcoming, along with the schedule of events for the week.
Updates and announcements will also be available at the BSA International Australia's Facebook page

and website as it develops.
Other details or enquiries can be directed to:
, or

BSA International Rally, PO Box 2400, OAKLEIGH, Vic, AUSTRALIA, 3204
Rally Rules
RULES OF THE 55th BSA INTERNATIONAL RALLY 2018
The Rally shall be known as "The 55th BSA International Rally 2018." 
The Rally shall be open to all members (and their families) of any BSA Club as recognized by their respective club roster of members.
All participants are expected to attend with a BSA motorcycle. 
Any person wishing to attend without a BSA motorcycle may do so only if they have permission from the Rally Committee.  Such permission shall only be given when the Committee rules that there are acceptable extenuating circumstances. 
Only BSA motorcycles will be allowed on the Rally field, on Rally rides, or in the Line-up for display.  Non-BSA motorcycles must be kept offsite or in an area designated by the Rally Committee.
All vehicles brought onto the Rally site, including bike trailers, must be placed in the appropriate place as directed by the Rally Committee, and must not conflict with camping or other Rally site activities.
Attendance at the rally is by pre-booking only.  Members booking after 11th August, 2018 will be subject to a 10% surcharge.  Members arriving without pre-booking will only be allowed to stay after all pre-bookings have been taken into account, and will be subject to a 20% surcharge. 
The Rally organizing committee reserves the right to refuse admission or to deal with misbehaviour in any way they see fit. 
All rules of the campsite, including health and safety requirements, shall apply to all Rally participants, and shall be treated as rules of the Rally. 
Submission of a signed Rally booking form shall constitute acceptance of these rules and adherence to the rules is a condition of participation.